It's September...Time To Prepare For the Unexpected
September 01, 2022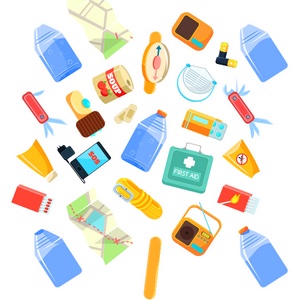 Disasters Don't Wait. Make Your Plan Today ~ Ready.gov
If we have learned anything in the last 2 years, it is that we all must be prepared for the unexpected.
September is National Preparedness Month, and there is no better time to re-prep your Preparedness Kits for the changing of seasons. Below are some standard preparedness kits that every home and car should have ready to go!
Basic Preparedness Kit for your Home
WATER

Food

Battery-Powered Radio

Flashlight

First Aid Kit

Whistle

Manual Can Opener

Manual Wine Opener

Duct Tape

Plastic Bags and Ties

Extra Batteries
Car Preparedness Kit
WATER

Snacks

Windshield Scraper

Flashlight

Extra Batteries

Blankets

Sunscreen

Hand-warmers

Extra Chargers
Hurricane Prep Tips
Make a family plan.

Make sure your fire extinguisher is up-to-date.

Secure personal documents in case of an evacuation.

Ensure plenty of energy sources, such as a generator, extra batteries, and flashlights.

Be sure you have plenty of any necessary medication.

Make sure you have plenty of jugged water and canned foods.
Cold Weather Tips
Insulate any waterlines located in crawlspaces or along exterior walls.

Insulate Attics.

Caulk and weather strip doors and windows.

Have your chimney or flue inspected each year.

Update and install smoke and carbon monoxide detectors.

Ensure proper venting for fuel burning equipment.

Have your furnace and vent systems inspected each year.
The most important thing to remember is to keep a preparedness kit updated based on the seasons of the region in which you live. Be sure to take the time to evaluate each item in your kit so that you are ready no matter what may come your way!

Article Sources
https://www.cdc.gov/disasters/winter/beforestorm/preparehome.html
https://www.redcross.org/get-help/how-to-prepare-for-emergencies/types-of-emergencies/winter-storm.html
https://www.cdc.gov/disasters/hurricanes/before.html
https://www.weather.gov/wrn/hurricane-preparedness


Want to Learn More?

Other Resources
https://www.ready.gov/winter-weather
https://www.wunderground.com/prepare/winter-weather
For Kids